Your Smartphone Might Need A Few Friends (Smartphone Accessories)
There are a ton of things that your smartphone can do to make your life easier, but sometimes it could use some help itself. A smartphone by itself is great but sometimes it just ain't enough, as humans we always WANT and need more functionality. Thankfully, there are a whole variety of smartphone accessories for us to choose from.
Some of us might like to enhance our Smartphone's camera or turn it into a frigging telescope, some of us might want some backup power storage, hell maybe even turn your smartphone into a Swiss knife. The good news is the possibilities are endless. The list of diverse tools of added functionality for your smartphone goes on and on. I won't name names but some of them to be honest are straight up ridiculous; But have you by any chance heard of the infamous Plush Hamburger Cell Phone Screen Cleaner Charm, you might want to check that one out because why not? Everyone loves Hamburgers right?
However, I've put together a list of some awesome and actually useful smartphone accessories that you may want to get acquainted with. You never know, they might even save your life. Okay, just kidding, I was exaggerating but hey! You never know ;).
Here's The List Of My "Nothing Less Than Legendary" Smartphone Accessories.
Alright, they may not be legendary but they are pretty good based on my opinion. But you be the judge of what might be useful based on your own personal and unique situations. And you are always welcome to suggest smartphone accessories that you found useful too on the comments section. Needless to say, it might even help me when I run out of ideas lol. But hey seriously.
1. DJI Osmo Mobile 2 phone stabilizer
If you are a You-tuber, a vlogger, a film maker or just somebody who likes to record all the sweet and awkward moments in your life. What comes to mind in most cases is a selfie stick but we face really annoying problems like shaky footages, we have to adjust our camera manually and we can't access all the functions of our phone's camera. But the DJI Osmo Mobile 2 phone stabilizer is a handheld device that eliminates those problems. What it does is basically keep the subject of your video in focus via ActiveTrack using built-in sensors and motors to provide stability. no matter how much you move to a certain degree of course, it keeps your videos smooth and stable while you walk or travel on a vehicle like a skateboard.
To put it simply, it works as a gimbal for your phone's  camera. Now what is a gimbal you might ask "a device for keeping an instrument such as a compass or chronometer horizontal in a moving vessel or aircraft, typically consisting of rings pivoted at right angles" straight out of the google dictionary. You'll also get a bunch of ergonomically placed buttons for Cinematic Zoom Control and snapping those photos. It gives you up to 15 hours of battery life which enables you to do some pretty amazing camera work provided you recharge your phone every now and then.
Here Are The 5 Exclusive Things You Can Do With The DJI Osmo Mobile 2
Timelapse 
Motionlapse
Hyperlapse
Slowmotion
Zoom Control
You can create seamlessly professional looking documentaries with this device even if you're just a hobbyist. The only setback however is it does not support 4k videos yet.
2. PhoneSuit Journey All-In-One Charger And PhoneSuit Flex XT Pocket Charger
PhoneSuit Flex XT Pocket Charger
If you're a minimalist Smartphone user and value portability over all else, the PhoneSuit Flex XT Pocket charger is a suitable option for any long day of traveling or working. It works on all android device of any brand. It packs upto 2600 mAh of power which is reasonable considering its size and could be very useful if you use your smartphone in power taxing applications. Although, you should also keep in mind wether 2600 mAh is enough for your device judging by its battery life.
The convenience is why I put it on my list, you can put it in your pocket, you don't have to carry additional cables but it does come packed with a micro USB cable in order to recharge itself though, it looks good and has a sleek looking aluminum shell finish and is ultra light weight.
The charging pin (micro USB jack) is also a bit more extended so that you don't have to go through the hassle of taking off your smartphone casing; you just plug it in and you're good to go.
PhoneSuit Journey All-In-One Charger
The Journey All-In-One is a smartphone sized power bank that you can easily slide into your pockets. And it is basically what the name suggests, you can charge up to 3 devices with 2 compactly built in protruding micro USB cables and another micro USB that comes packed within the box.
A few great things about this charger is that its got a lightning cable for fast charging of up to 5V/2.4A and a fold able AC input Charging Pins which you can plug to any 2 pin AC outputs on a wall. It backs you up for a modest 3500 mAH which isn't much, in my opinion it could have offered a bit more. But if you're a person who likes to carry multiple devices and need that kind of backup and don't like a mess of wires, this is just about as good as it gets.
3. Fujifilm Instax Share Smartphone Printer
If you're a fan of Polaroids or not you'd still be impressed by this cute little thing. The images on your smartphone are getting all stacked up and there's no physical evidence that remains of it unlike the old days where you had wonderful photo albums, however, if you fancy those things the Fujifilm Instax Share Smartphone Printer will help you achieve that within seconds without having to visit a photo studio.
It's basically a wifi printer for your smartphone and prints credit card sized photos in high quality in various filters and custom contrast, brightness and saturation and exciting templates plus there is the option of including texts.
4. Fusion Lens Fishball 360º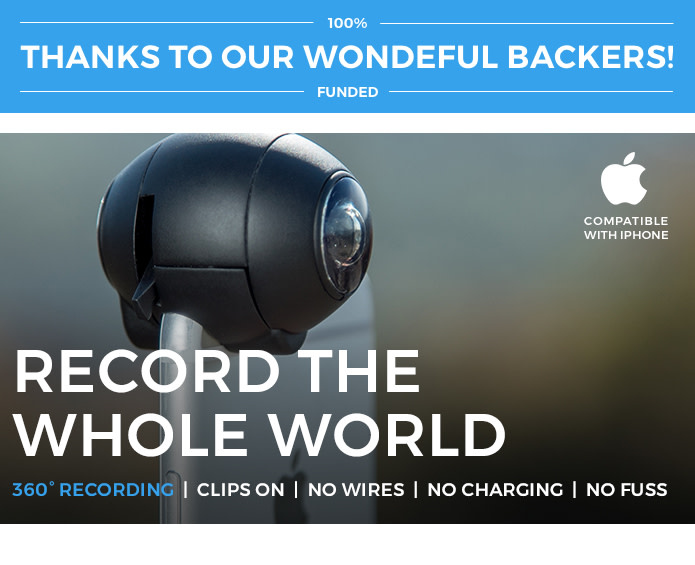 The Fusion Lens is something you clip onto the top of any version of an iPhone and Wallah you can now snap images and record videos in 360 degrees with up to 6k resolutions. However the bad news is it doesn't support Android at this moment. But if you like taking 360º photos and don't like to buy expensive equipment this can help you achieve the same thing. The Fusion Lens has its own app called the fusion app you'll have to use it while taking photos with it and it also allows instant social sharing. It has two 180º lenses one at the front and one at the back to allow it to take 360º photos and capture videos. And the best thing is, it needs no batteries and it doesn't need any bluetooth/wifi to connect with the phone.
RevolCam (Bonus add-on)
The RevolCam is included in this list because it is truly a useful add-on for photographers, Smartphone cameras are already pretty buff these days but when you add the RevolCam into the equation it enhances photos by using lenses for three different camera modes Wide Angle, Macro and Fisheye which you can switch simply by rotating the lenses. It also offers a detachable LED light with 230 levels of brightness intensity adjustments that you can attach on any wall or object for your lighting preferences and it is rechargeable. It supports any and all smartphones including iPhones.
5. JBL Flip 4 Waterproof Portable Bluetooth Speaker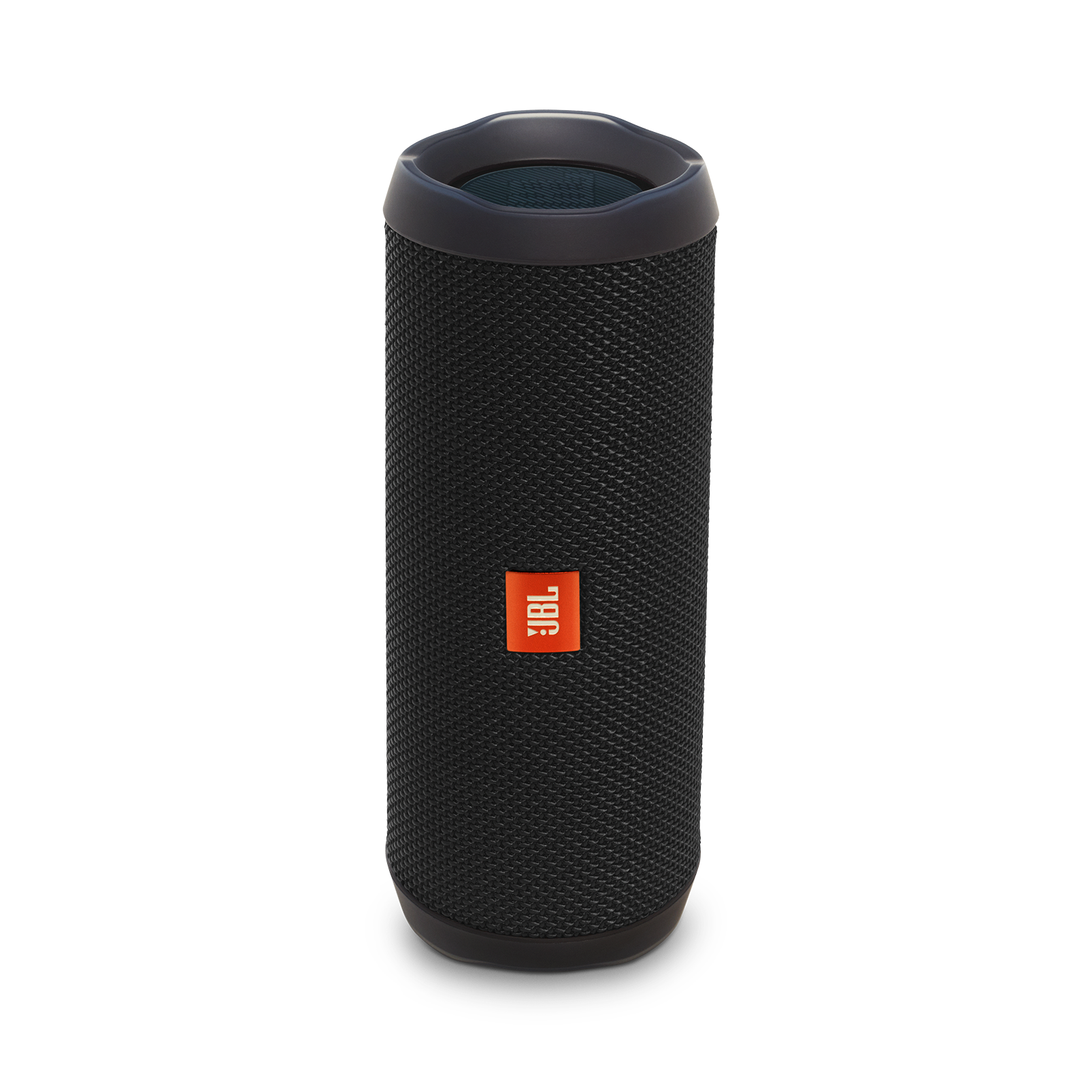 In case you were wondering if you could listen to some music outdoors while it's raining heavy or while kayaking through a rough river which I wonder why you'd do, you'd definitely need a Waterproof portable bluetooth speaker right. Okay, waterproof is just an additional feature because you just might waste your speaker by accidentally pouring a glass of water on it or just want to listen to some music while taking a shower, in any case it's better to be safe than sorry.
However, the reason I put it on my list is because it gives you an adequately loud, very natural sound quality, and clarity in music and offers up to 12 hours of battery support which is pretty damn good in my opinion. It's also quite light weight you can place it both horizontally and vertically and hang it anywhere you want.
6. ChargeKey
If you're a forgetful person like me, chances are you forget to take your phone's charger with you in most of your slumber parties, but you never forget about your keys right, well I hope not. This is why the ChargeKey comes in handy.
At one end it has the charging pin and at the other a USB Jack which you slide into a USB slot when charging is required.
7. 1byone Foldable Bluetooth Keyboard

It looks cute and it is very useful, that's the kind of combination I like most. More often than I can get used to, my laptop gives me a very hard time while typing my stuff when it slows down, that's when I shift to my smartphone and suffer some other interface issues "I really despise typing on touch screen keyboards" the agony is insufferable. But a bluetooth keyboard would definitely make my day a lot easier, especially one that is foldable as well.
The Tri-fold design makes it a perfect portable keyboard. It features American broadcom Bluetooth 3.0 chip which is 8 times faster than the Bluetooth 2.0 and can transmit high speed connection and signal from a distance of up to 33ft (10m). It's compatible with iOS / Mac OS, Android, Windows, and all Bluetooth-enabled tablets, laptops and computers.
1byone has a sleek design, for which it slides easily in to any backpack. it has been designed ergonomically for wrist comfort. It packs a 210 mAH built in lithium battery which gives it 114 days of standby support and 64 hours of continued use without ever recharging.
8. ALLBE1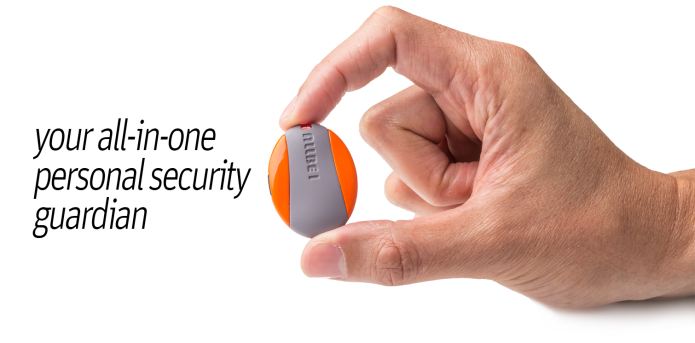 Alright, so when I said I'd mention a smartphone add-on that can actually save your life I wasn't entirely bluffing. The ALLBE1 looks like a pebble that you'd throw over a lake while sitting by its shore. But this tiny pebble is a Swiss Knife when it comes to functionality which is deceivingly shoved into it. It has a wide variety of applications based on personal security, health monitoring and environment.
It has a ton of sensor technology under its hood which include Temperature, UV, Ambient Light, infra red, proximity and motion sensors.
Now imagine what you can do with so much sensing. If you forget where you kept your important assets such as laptops, cars, your kids anything the ALLBE1 lets you know its exact location. It lets you know if someone opens a door, window or a drawer, it keeps check of your health and whether your daily vitamin intake is sufficient enough or not, it can track distance traveled all through its designated app which is both Android and IOS compatible. It has Bluetooth 4.0 and can operate for up to 2 months on full charge and is rechargeable.
Oh, and it's also a wearable and comes with a watch like wrist band with a slot where you can slap it into.
9. Garageio Smart Garage Controller
The Garageio Smart Garage Controller is something I would personally use for my dream home where I'd be able to open my garage with a swipe of a button on my phone. And that's exactly what it does. You won't have to replace your existing garage switch to install it. The device has an app that lets you open and close your garage door remotely for yourself or a guest. The app even lets you know if you forgot to close your garage door.
You can integrate this device with your Amazon Echo if you've got one for added convenience. You can command Alexa to ask Garageio if any of your garage doors are open depending on the number of doors you have with a maximum of 2 doors, I mean why'd you need more than two garage doors man?
10. Satechi Fast Wireless Charger
I hate wires, you hate wires, everybody hates wires. Wireless charging is a worthwhile investment if you hate getting tangled and don't want to waste your valuable time untangling those cables.
The Satechi Fast Wireless Charger looks elegantly designed; it's slim and sexy with an aluminum build. It supports QI-compatible devices and is also backwards compatible with previous generation smartphones. It doesn't shy from fast charging, it charges 1.4 times faster than standard wireless chargers
Hamaker Bamboo Qi Wireless Charging Pad (Bonus Smartphone Accessory)
Hamaker Bamboo Qi is another option if you're into natural looking home appliances and it does look high standard. It provides sufficient charging for up to two smartphones. It doesn't support fast charging though.
11. TeckNet Waterproof Power Bank 9000mAh
If you love adventuring in wet places and going to expeditions on rain forests every once in a while and still need your smartphone by your side, a waterproof power bank is a necessity as your belongings might not always be dry in certain situations. 9000 mAh is enough to last you for maybe a week depending on your usage.
12. GoGroove FlexSMART Universal Car Mount
There're  lots of "universal" car mounts on the market, but most of them aren't extremely useful. The GoGroove FlexSMART is a car mount that features a little bit of everything someone might require, beginning with an intuitive bent over connection to the car's cigarette lighter port, which also works as its mounting point. It also offers a powered USB port, for charging any device (even those that don't take a universal Micro USB plug); a built-in FM transmitter; a 3.5mm plug; and a backlit digital display.
13. Seek CompactPRO
Have you watched the movie "Predator"? If you have, you definitely know just how Badass the Predator seems when he switches to heat vision. That's exactly what you can do with the Seek CompactPro. If you're an engineer working on construction sites, work with hot stuff, a ghost hunter or just think thermal imaging is cool (No Pun Intended), then you should probably check out this gizmo. This kind of technology used to be bulkier and professionally used primarily by engineers but the Seek CompactPro has shrunk the scale spectacularly.
The Seek CompactPRO is small, weighs less than 30 grams and can plug into any Android or iOS device. The compatible app allows users to see the thermal footage from the add-on's sensor from -40 to 330 degrees Celsius, and from a distance of up to 1,800 feet away. The lens gives the thermal cam a 32-degree field of view.
The manufacturer claims it is the first smartphone add-on thermal camera that offers 320 x 240 sensor array.
14. Tele Vue TNVC FoneMate Night Vision Smart Phone Adapter System
Just think of it this way, you're alone in your house and suddenly the power got cut off and darkness consumes you, you hear weird noises coming from the living room and you are unprepared to face what ever is out there. The "Tele Vue TNVC FoneMate Night Vision Smartphone Adapter System" (Good Lord! That's a long name) is what can prepare you for such situations.
This amazingly bulky machine will make your smartphone look like a FULL ON rocket launcher, but I tell you it's nothing less cooler than one. The Tele Vue TNVC is capable of  attaching itself to any smartphone over any casing and will adapt to a numerous number of optics.
FoneMate Night Vision Smart Phone Adapter System offers the Tele Vue FoneMate and TNVC PVS-14 Eyepiece Adapter. This assortment is all you need to capture wonderful night vision images and footages on any smartphone you know of.
That's It For Now
I hope you enjoyed my list and more importantly found something that might be useful to you, because that's the main purpose of me writing this massive article. However, your criticism is always welcomed whether they're complements or complaints. And if you found this article useful or just amusing, please like and share this with your family and friends, it'd be a huge way to support me in my efforts.
Grazie…
Please follow and like us: